The band OK Go is probably best known for their complex, mind bending video clips but they've upped their game for their latest single "Upside Down and Inside Out," creating the first ever film clip to be shot at zero gravity. And it is unbelievably amazing!
Their last clip featured 2,300 dancers performing elaborate routines, all filmed by a drone mounted camera shifting between level and birds-eye shots. Their other clips have involved an unbelievably complex Rube Goldberg Machine and one of the coolest (only) choreographed routines we've seen involving treadmills, but they've gone out of this world with this last clip.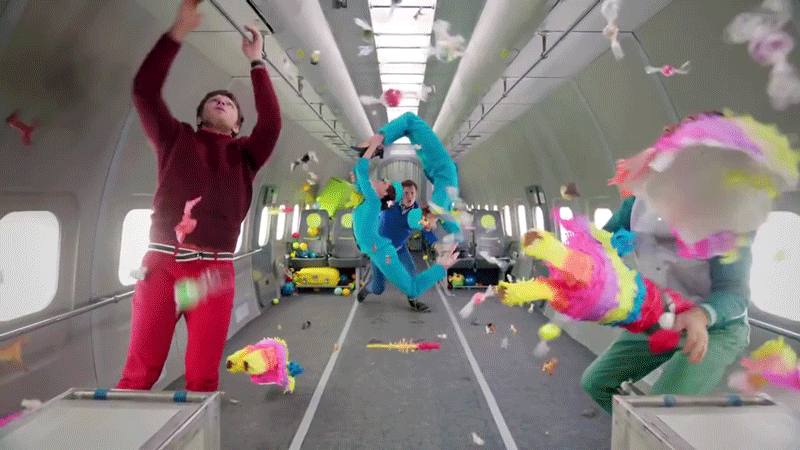 Their latest offering starts with a short message explaining that the clip was shot in zero gravity, in an actual plane, in the sky….  and you won't believe where it goes from there. From here on the clip descends into a crazy 3 minute trip as   the band and flight attendants float-dance around the cabin in zero-gravity, bursting piñatas and paint-filled balloons.
You have to click below to see the whole thing… trust us, it's worth it.
Grammy-winning director and choreographer Trish Sie was back in charge of the action for the film clip. They had previously worked together on the video for OK Go's viral 2006 hit "Here It Goes Again", which was shot on treadmills.
For the clip, OK Go teamed up with S7 Airlines and trained at a facility in Russia run by Roscosmos, the country's version of Nasa. The clip itself was filmed over 21 separate flights and the crew or band were sick 58 times. Who said making art was going to be easy.